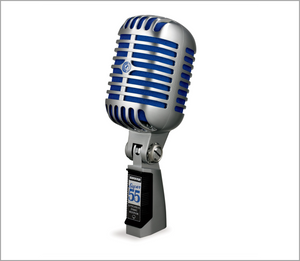 Super 55
Deluxe Vocal Microphone
Vocal microphone combines the vintage design of the 55 with an audio upgrade and an integrated swivel stand mount. It features a super cardioid pattern, tailored frequency response for speech, off-axis rejection, and a shock-mounted cartridge.
Features:
Uniform supercardioid pick-up pattern for maximum gain before feedback and excellent rejection of off-axis sound.

Tailored frequency response specifically shaped for natural sounding vocals and speech.

Chrome die-cast metal construction and mechanical design resists wear and abuse.

Classic appearance, modern performance.

Shock mounted cartridge minimizes stand transmitted noise, ensures quiet operation.

Self-tensioning swivel mount permits tilting through 45 degrees forward and 80 degrees backward.

Shure quality, ruggedness and reliability

Includes zippered storage bag.