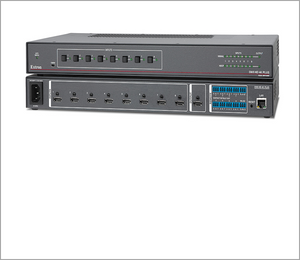 Eight Input 4K/60 HDMI Switcher



4K/60 HDMI Switchers with Ethernet Monitoring and Control
part number 60-1606-01



The Extron

 

SW HD 4K PLUS Series

 of two, four, six, and eight-input HDMI switchers support 4K/60 with 4:4:4 color sampling. They are designed for video signal switching between multiple HDMI sources to a single display. The switchers are HDCP 2.3 compliant, and support data rates up to 18 Gbps, HDR, 12-bit Deep Color, 3D, and HD lossless audio formats. The SW HD 4K PLUS Series is easy to operate using front panel controls or auto-switching. Ethernet, RS-232, and contact closure ports provide ample options for integration with any control system. All models feature EDID Minder®, which maintains continuous EDID communication with connected devices and ensures that the HDMI sources power up and maintain video output. The switchers provide automatic input cable equalization up to 25 feet (7.6 meters) on Extron HDMI Pro Series cable.To enhance and simplify integration, the SW HD 4K PLUS Series provides integrator-friendly features, including automatic input cable equalization, automatic color bit depth management, indicators for monitoring and troubleshooting, as well as peripheral device power on the output. Automatic input cable equalization corrects for signal loss due to lengthy input cables, ensuring signal integrity up to 25 feet (7.6 meters), when used with Extron HDMI Pro Series cable. The SW HD 4K PLUS Series automatically adjusts color bit depth based on the display EDID, preventing color compatibility conflicts between source and display. Front panel LED indicators provide immediate visual confirmation of HDCP authentication and signal presence for each input and output. If HDCP‑encrypted content is transmitted to a non‑compliant display, a full-screen green signal provides immediate visual confirmation that protected content cannot be viewed on that display. The SW HD 4K PLUS Series also provides +5 VDC, 250 mA on the HDMI output for powering peripheral devices such as an Extron 

HD 4K 101 Plus

 

cable equalizer.The SW HD 4K PLUS Series two and four‑input models are housed in 1U, half rack width enclosures that are suitable for mounting in a rack or under a table. The six and eight‑input models are housed in 1U, full rack width enclosures and come standard with brackets for mounting in a rack.




Features
Supports computer and video resolutions up to 4K
Supported HDMI specification features include data rates up to 10.2 Gbps, Deep Color up to 12‑bit, 3D, Lip Sync, and HD lossless audio formats
EDID Minder® automatically manages EDID communication between connected devices
Automatic input cable equalization to 50 feet (15 meters) when used with Extron HDMI Pro Series cable
Multiple control options including front panel, RS‑232, IR, contact closure, and auto‑input switching
Compatible with TeamWork® Show Me® Cables
Includes LockIt®

 

HDMI cable lacing brackets
Extron Everlast™ Power Supply

 

— SW HD 4K PLUS Series two and four input models include an energy efficient external universal power supply, replacement part #70-1174-01. Six and eight input models come equipped with a 100 240 VAC, 50/60 Hz, internal universal power supply.

Extron Everlast Power Supply is covered by a 7‑year parts and labor warranty
Register online for Extron Training and Extron Electronics Updates