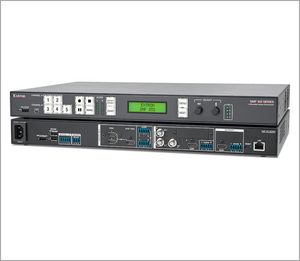 SMP 352
Dual Recording H.264 Streaming Media Processor
The SMP 352 is a high performance recording and streaming processor for capturing and distributing AV sources and presentations as recorded media or live streaming. It can create independent recordings from two different sources, and incorporates Extron's FlexOS®, a flexible platform for automating system operation. The SMP 352 accepts HDMI, component, composite, and optional 3G-SDI signals and applies two-window processing to selected sources. It can record and stream simultaneously and can stream at two different resolutions and bit rates concurrently using a range of transport protocols and session management options. With no recurring licensing fees and comprehensive control and configuration features, the SMP 352 is a cost-effective, integration-friendly solution for delivering presentations to a larger audience.
Approximate Storage Capacity in Hours Based on Video Bit Rate and Storage Device
Video Recording Bit Rate
32 GB USB Thumb Drive
SMP 352 - 400 GB SSD
1 TB Network Storage
10 Mbps
7
80
220
5 Mbps
15
160
450
2.5 Mbps
27
320
850
1 Mbps
64
800
2,000

Storage capacity estimate is calculated for a single stream / recording using the video recording bit rate plus 192 kpbs for audio.
Key Features
Process two high resolution AV sources from up to five available input signals
Record and stream simultaneously
High quality scaling with flexible two-window management
Produce MP4 media or M4A audio files that are compatible with virtually any media player
Stream concurrently at two resolutions and bit rates from the same source
Dual channel recording and streaming with confidence stream
LockIt® HDMI cable lacing brackets included
Rack-mountable 1U, full rack width metal enclosure
Internal Extron Everlast™ power supply

— Provides worldwide power compatibility, with high‑demonstrated reliability and low power consumption for reduced operating cost

Extron Everlast Power Supply is covered by a 7‑year parts and labor warranty
Register online for Extron Electronics Training and Updates