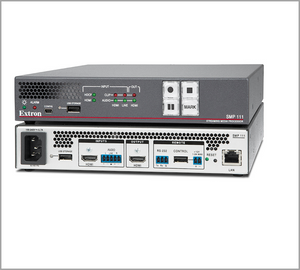 SMP 111
Single Channel H.264 Streaming/Recorder Media Processor-32 GB
The SMP 111 is a high performance recording and streaming processor for capturing and distributing AV sources and presentations as live streaming and recorded media. The SMP 111 accepts an HDMI signal with embedded audio and an analog audio signal. Extron high performance scaling and flexible signal processing enable superior display of content of varying resolutions from computers and HDTV sources. The SMP 111 supports extensive streaming capabilities. It can record and stream simultaneously, with independent resolutions and bit rates, using a range of transport protocols and session management options. Recording with the SMP 111 provides easy capture of live HDMI signals to an internal flash drive and external USB drives. Requiring no licensing fees, the SMP 111 is a cost-effective solution for streaming and recording content.
Approximate Storage Capacity in Hours Based on Video Bit Rate and Storage Device
Video Recording Bit Rate
32 GB Internal Flash
64 GB USB Thumb Drive
1 TB Network Storage
10 Mbps
7
14
218
5 Mbps
14
28
428
2.5 Mbps
28
53
825
1 Mbps
60
119
1,865
Storage capacity estimate is calculated using the video recording bit rate plus 192 Kbps for audio.
Features
Process live, high resolution HDMI video and audio with metadata

 

— 

Record and stream simultaneously

 

— 

High quality scaling with aspect ratio control, size, and position

 

— 

Produce MP4 media files that are compatible with virtually any media player

 

— 

Automatic file uploading

 

— 

RTMP streaming protocol supports popular third party hosting services

 

— 

New

 

RTMPS support for Facebook Live

 

— 

New

 

Integration with Toolbelt v2.9.0

 

— 

New

 

802.1X Authentication

 

— 

Connect High Definition sources up to 1920x1200, including HDTV 1080p

 

—

Stream at resolutions from 512x288 to 1080p/30

 

— 

HDMI output with audio

 

—.

Record audio, video, and data

 

— 

Save recordings to internal storage, external USB storage, or network storage

 

— 

Easy to operate front panel controls

 

— 

Embedded Web interface

 

— 

Support for HDMI with embedded and analog audio

 

— .

Mark Chapters for quick selection

 

— 

Capture thumbnails

 

— .

Record at 512x288 thru 1920x1080, including 480p, 720p, or 1080p

 

—

Audio mixing and DSP functionality

 

—

Audio Delay processing

 

— .

Directly compatible with Opencast

 

—

Direct compatibility with Kaltura Hosted Video Platform

 

— 
Email us for Pricing
Compatible with third party content management systems

 

—

Flexible plugin applications for advanced AV system management

 

— 

RS‑232 and Ethernet control

 

— 

New

 

USB remote control port

 

— 

Standards-based H.264 / MPEG‑4 AVC video compression

 

—

Encoding presets for quick recall of compression settings

 

— 

License-free operation for a low cost of ownership

 

— 

Push streaming transport protocols

 

— 

Pull streaming transport protocols

 

— 

Video encoding quality adjustments

 

— 

On screen display information

 

—

Onscreen display video time reference

 

— 

User configurable recording file size

 

—

Automatic file space management for internal storage

 

— .

Recording metadata

 

—

New

 

Record Duration Limiter

 

— 

System workflow alarms

 

— 

Alarm reporting

 

— 

AAC audio encoding

 

— 

EDID Minder® automatically manages EDID communication between connected devices

 

— 

Picture controls for brightness, contrast, position, and size

 

— 

Aspect ratio control

 

— 

HDCP encryption and signal presence confirmation

 

— 

Internal test patterns for setup

 

— 

Front panel lockout

 

—

Metadata text overlay

 

— 

New

 

LinkLicense for Live Streaming to Kaltura

 

— 

New

 

LinkLicense for Live Streaming to Panopto

 

—  Email us for Pricing

New

 

LinkLicense for Horizontal Video Mirroring Upgrade

 

— 

New

 

Panopto publishing using Panopto FlexOS App

 

— 

New

 

Option to enable auto start and stop of RTMP stream with recording

 

— 

New

 

Secure Sockets Layer (SSL) certificates support

 

— 

Includes LockIt® HDMI cable lacing brackets
Rack-mountable 1U, half rack width metal enclosure
Internal Extron Everlast™ power supply

 

— 

Extron Everlast Power Supply is covered by a 7‑year parts and labor warranty
Register online for Extron Electronics Training and Updates