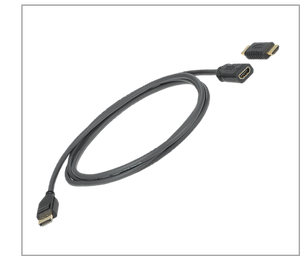 DisplayPort Male to HDMI Female Active Adapter Cable - 6'
Part Number 26-714-06
The Extron DPM-HDF/6 4K PLUS is an active DisplayPort to HDMI adapter for signals up to 4K/60 @ 4:4:4. Active circuitry converts DisplayPort packetized signals to TMDS for connection to HDMI devices. The 6 foot (1.8 m) adapter cable features DisplayPort male and HDMI female connectors with gold-plated contacts and is powered by the connected DisplayPort source device. EDID, HDCP, and audio information are passed through between source and display. The DPM-HDF/6 4K PLUS is ideal for connecting DisplayPort-equipped sources to HDMI displays or other sink devices.
Features
Provides connectivity between DisplayPort sources and HDMI displays and peripherals
Provides active conversion of DisplayPort signals to HDMI
Supports resolutions up to 4K/60 @ 4:4:4 with data rates up to 18 Gbps
Complies with VESA Interoperability Guidelines
HDCP compliant
Passes EDID information from HDMI display to the source
Supports 8-channel LPCM and HBR audio
Compatible with DisplayPort and Dual-Mode DisplayPort sources
Latching DisplayPort connector
Gold-plated contacts
Molded loop for use with optional LockIt®

 

Cable Adapter Tether
LockIt Cable Adapter Tether available for secure attachment between adapter and cable, part #101‑021‑10
Includes a male to male HDMI coupler and LockIt HDMI cable lacing bracket
Certified for use with AVEdge, Cable Cubby®, and HSA surface access enclosures
6' (1.8 m) cable length
Note: This is a powered adapter and must be used directly at the DisplayPort source. It is not intended to be used at a DisplayPort video display. Do not use additional cables or adapters between the source output and the male end of the DisplayPort adapter.